Two new Ultra Edition handsets by Samsung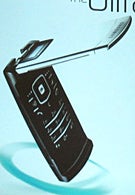 The Z620 and the Joy, also called the Ultra Edition 11.8 and Ultra Edition 13.5, are the latest two members of Samsung's slim phones. The Z620 clamshell features magnesium body and is only 0.46 inches (11.8mm) thick. It has a 2.3" QVGA display, 2 megapixel camera, 138MB of internal memory and a microSD cards slot. The Joy is a slider measuring only 0.53 inches (13.5mm) in thickness and features a 3-megapixel shooter with video capturing capabilities, 150MB of memory and microSD slot for expanding it. Both handsets are 3G video calling capable.
The Ultra Edition 11.8 and 13.5 are expected to come to life in December 2006.
Source: Mobile-review via EngadgetMobile