Two new Siemens phones announced - SL65 and CFX65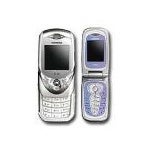 Siemens Mobile today announced two new high-end mobile phones – Siemens SL65 and CFX65.
The Siemens SL65 is the successor of SL55 and features sliding design, VGA (640 x 480) video camera with video recording, tri-band (global) operation, 65k color display, Java, e-mail and MMS.
Siemens SL65 full specifications.
Siemens CFX65 – clamshell phone with integrated flash and torch, VGA camera, dual-displays, Java, MMS and email. Currently only supports European/Asian GSM frequencies (900/1800 Mhz).
It was unclear if there will be American version of the devices.