Two new Galaxy S6 image teasers suggest great battery life, fast charging?
44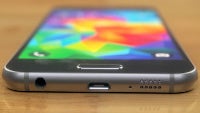 By now one thing should be obvious – Samsung has initiated its Galaxy S6 marketing campaign, and we likely won't go a day without a new teaser that is meant to drive hype up around its next flagship. Case in point: After publishing
a second video teaser yesterday
, Samsung then went on to also tweet out two new image teasers within the next 12 hours.
Like before, the teasers are quite ambiguous. So much so, in fact, that we're now starting to think that battery features, not performance, is what Samsung was trying to communicate all along. For example, the first of the two reads
"Stop less. Discover more.",
which sounds like a reference to either great battery life
or
quick charging tech. It's also been suggested by some of our readers that Samsung could be talking about wireless charging, too.