Tuesday's News Bits
This article contains unofficial information.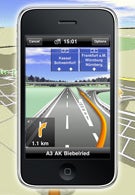 AT&T Navigator for the iPhone has been released

. The new software allows turn-by-turn GPS navigation and sports features like traffic data, automatic map updates and advanced searches. The app is free, but a $9.99 subscription is automatically added to the carrier bills.
via:
MacRumors
MobileNavigator Europe is another iPhone nagivation app

. As its name suggests, it features maps for Europe only, but is expected to get a North American update soon. The developer, Navigon, has taken care to include support for 2D and 3D maps, automatic portrait and landscape view, voice navigation, speed assistant as well as take-me-home function. MobileNavigator for the iPhone can be purchased with a map for 40 countries for about $105 (EURO 74.99) until the end of June. After the promo rate expires, you'll be able to get it for about $140 (EURO 99.99). A regional version will also be available at promo price of $70 (EURO 49.99) and $98 (EURO 69.99) after June. The free "LITE" version of the app will not allow active route navigation, but will still show the latest map material and points of interest.
source:
GSMArena
The BOLT browser has hit one million downloads.

It seems Bitstream's lightning fast mobile browser for JAVA phones has made it big, so why don't you give it a try?
source:
BlackBerryCool
More live photos of the T-Mobile myTouch 3G have leaked

. This time, an employee has uploaded some pics of the popular Android smartphone, but there isn't anything really new.
source:
TmoNews