TouchWiz Nature UX Overview on the Galaxy S III (video)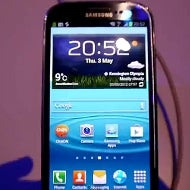 With the
Samsung Galaxy S III
the Android phone maker introduced the newest version of its interface overlay over Ice Cream Sandwich called
TouchWiz Nature UX
. Nature, of course, hints at the
Natural Interaction capabilities of the handset
, which are a centerpiece of Samsung's new strategy for a holistic approach towards hardware and software.
TouchWiz is more streamlined here in the Galaxy S III, and at the same time has gained plenty of new features like the S Voice communication user-phone, the ability to watch a video picture-in-picture while doing something else, and many other innovative features.
Have a gander at the new TouchWiz Nature UX that will be coming with the Samsung Galaxy S III, and please don't jump when the display units alarm gets set off - these are the risks of live events we are willingly taking on our fragile shoulders.