Toshiba working on instant voice translation for cellphones?
This article contains unofficial information.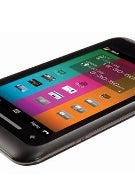 Toshiba is working on a way for cellphones to instantly translate foreign languages. The current build of the software translates English, Japanese and Chinese. Say you're in Japan and need to find the nearest bathroom. Using the software developed by Toshiba from existing PC programs (each language has knowledge of about 30,000 words), the speaker talks into the phone-which doesn't have to be online-and the software translates it and says it out loud using the correct inflections that a native speaker of the language would use. The program was developed for tourists visiting foreign countries, and Toshiba claims that 70% of simple travel-related conversations will be covered by the translator which it hopes to launch within the next year. So even though you don't know a lick of Japanese, you are able to take care of business in a timely fashion.
Toshiba TG01 Specifications
|
Review
source:
TheNikkei
via
MobileCrunch