TomTom iPhone kit pushed backed until October
This article contains unofficial information.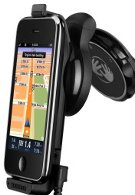 TomTom recently made their software available to download on the App Store for all those iPhone owners eagerly waiting for a premier GPS software. With the launch, there was news about a kit that can be purchased to allow the iPod Touch gain GPS capabilities – it would also work with current iPhone 3G models to allow for better service. Originally planned for a summer release, it will now be pushed back until October – TomTom citing to "take some extra weeks in order to deliver the highest quality." We really can't complain about that one and would rather wait so all the bugs are taken care of before launch day. Another item worth noting is that it's speculated to be sold without the TomTom iPhone app initially – hopefully being bundled together some time down the road.
via
Engadgetmobile