Toddler gets an iPhone quilt, "fanboy" term taken to a whole new level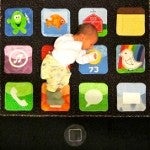 One Harriet Rosin seems to have been worried that her little grandson, Gabriel Stein, will be missing those colorful, glowing iOS icons that his parents distract him with, when he goes to sleep. Therefore she rolled up her sleeves and hand-knitted... you'll never guess... a quilt that visualizes an iPhone screen.
We know that quilts with prints of your loved ones' favorite stuff, or made out of their college t-shirts have saved the Christmas for millions of people, devoid of gift ideas, but this might be taking it too far. The comment from the father under the picture - "There's a nap for that!". Priceless.
source:
BenjaminSte.in
via
IntoMobile