This is the Death Star tribute Bluetooth speaker you're looking for!
8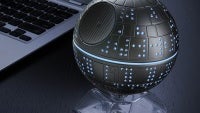 Leave it up to ThinkGeek, the last authority on Star Wars-themed gadgets, to turn our geeky dreams in reality and finally come up with the Death Star Bluetooth speaker we've been longing for. It's not perfect - it doesn't levitate like
the Om/One speaker we've been lusting after
, and its planet destroying might is yet to be tested. But for the most part, it's okay.
The sonically charged planet destructor is an officially-licensed bit of Star Wars merchandise that comes with an acrylic stand, auto-link button for easy pairing, AUX input, a rechargeable battery, and 3W of power. But most importantly, it has awesome lights! The $70 Death Star Bluetooth speaker looks like a cool Christmas gift to have around, and it will surely become the star of every Star Wars costume party! Don't believe our shenanigans? Check out the video below:
source:
ThinkGeek