This charger will make your iPhone 7 fly
15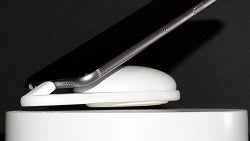 Just a week after the iPhone 7 went on sale, a clever bunch has brainstormed a pretty cool levitating charging dock for Apple's latest and greatest. Air Charge is a charging "puck" that gets to hover over a base while the iPhone is juicing up. It uses the concept of magnetic levitation to propel the charging "puck" upwards, making for a subtle, but pleasant effect.
The creators boast that their invention is thoroughly silent, so the process of charging won't disturb your sleep or any other activities. Moreover, the charging puck works with every iPhone case that allows for unobstructed access to the handset's charging port.
Currently being funded via Kickstarter, the Air Charge will be sold in Arctic White and Stiletto Black. Pre-orders start from $79.