Thinking outside the screen: 6 things you aren't doing with your tablet
7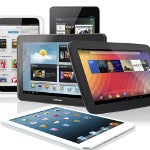 The tablet PC has finally arrived. While this formerly science fiction-seeming device has had numerous failed iterations over the past couple of decades, it's finally a viable way to do a lot of things. Everybody watches movies and plays games on their tablets, but there are other things you may never have even thought of doing. Tablet PCs are just coming into their own now. As time goes on, there are bound to be a lot of new and interesting things to do with these ultra-portable computing wonders. Here are 6 things that you probably aren't using your tablet for, though you easily could!
6 things you aren't doing with your tablet
---
Shaun Chatman
is a well published author on many authority sites. He lives in Dunedin, FL, and spends his free time playing with his kids or his
Android tablet
.