The location tracking scandal: Do you feel anxious about your privacy (Poll results)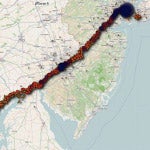 A lot of talk has been talked about the location tracking scandal. For that reason, we were quite intrigued to know your opinion on the matter and here are the hard facts from our poll.
Most of you (that translates into 46.75%) voted that mobile companies shouldn't track their customers, claiming it's a privacy invasion. On the opposite side of the dispute are some 36.88% of our voters who say this privacy thing is nothing new under the sun - in fact, they claim we have known about it all along. Moreover, they state that the whole scandal was blown out of proportion. The minority of voters in this poll (16.36%) simply claimed that this scandal is alarming, but they have nothing to hide, so they are not particularly bothered by it.