The first official Android N wallpaper has arrived, you can download it here
12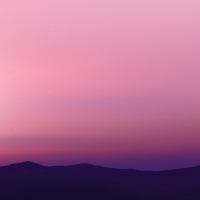 In case you missed the memo, the first Android N Developer Preview has arrived. This came as a pleasant surprise as we were not expecting it to get introduced that early - after all, Google's I/O dev-centric conference is scheduled for May 18. Still, it's here, and we're certainly not complaining, for it's giving us a taste of what's to come.
Apart from introducing lots of new features, the first preview also introduced a new wallpaper. It's laid-back and calming, featuring a sunset sky painted in pastel purple and lavender gradient hues. There's not much going on there — we can only discern the silhouettes of a few mountain slopes, as well as several dim constellations visible.
Check it out below. Warning: this is a 2880×2560-pixel image, weighing in at 1.47MB.