The best video calling message apps for Android
15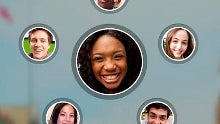 Actions speak louder than words, and for the times when twisting your thumbs to explain something with chat messages doesn't cut it, there are video calling apps that can relay your facial expressions, or let you soak up the surroundings at the other end of the line.
A lot of the big messaging and chat apps are now offering video calling functionality, but there are some lesser-known gems in the Play Store that are built from the ground-up with face-to-face time in mind. A good video call app has to be very careful with the data packages utilized for the stream, so that it doesn't bust your monthly carrier allotment in a session. At the same time, it has to sport decent video compression algorithms, if you don't want the frugal streaming pipeline to garble the video quality. Given that you are also relaying sound with the video, the audio function has to behave, too, relaying your voice loud and clear to the other end.
We are rounding up some of the best video calling apps that you can currently find in the Play Store - once you go video, it's hard to come back, unless you suffer a bill shock with your carrier.