The best Android browsers, 2014 edition: speed, design, and features
90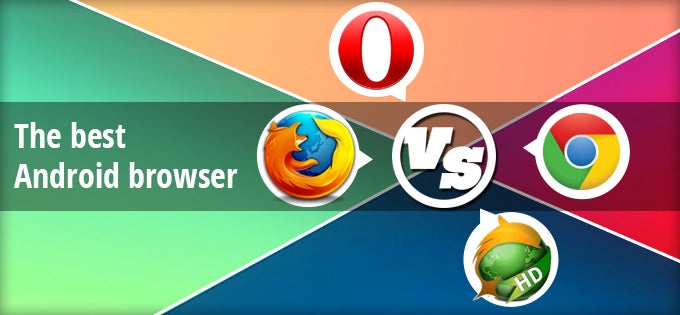 Preface
Three months from now, it will be
a full year since we last took it upon ourselves to explore and compare mobile browsers in depth
. This time around, we'll be kicking things into a higher gear. Heck, it's probably fair to say that this is a whole new ballgame, as the scope of examined categories is far larger. Said otherwise, while you and us will revisit the same type of synthetic and real world performance benchmarks, along with functionality, and features, general UI responsiveness and design will, this time around, also factor in.
We had to take shortcuts, though. Simply put, there are just way too many browser apps available right now, and that makes it practically impossible to examine them all well enough. So we had to pick. But instead of simply relying on popularity, or speed, or features, we thought it's best to cover the entire spectrum, and also include newcomers, that may not have yet won themselves massive audiences, but chances are, they will.
But enough with the disclaimers. Let's talk facts.
Note: The test device of choice is the OnePlus One.
Interface and design
Last time we explored mobile Android browsers, the focus was on speed. That made a lot of sense back then, especially considering that less than a year ago, poor performance was still an overarching issue with most low-to-mid range smartphones. Today, things are different, and even the cheapest devices out there are speedy enough to mostly swing the discussion in the other direction -- the design of the interface, and how easy it is to use.
In general, it's absolutely correct to say that this is an area that has seen pretty much zero change in a long time -- what we have on our mobile devices is, for the most part, a miniaturized version of our desktop browsers. We have an address bar on top, tabs usually sit there too, and a giant box of white space waiting to be filled with content. We found it absolutely strange that of all the browsers we've tested, including the ones that didn't make the shortlist, only Habit Browser had the address bar located on the bottom, thus making it easy to reach. We're not saying its implementation is perfect, but with the average Android phone now dangerously close to the 5-inch mark, this is becoming an issue. But let's talk about the contestants in turn -- go right ahead into the slideshow below.
Features
Now that you've gotten yourself acquainted with the browsers above and their design language, most of you will naturally wonder what kind of features they bring to the table (heh). It's hard to cover everything everyone is looking for, but there are definitely a few essential features that all of us can and do make good use of. If they're available, of course.
Now, some of these browsers (Firefox, UC Browser, Dolphin, for example) support extensions, but making these a part of the equation would equal a logistical and practical nightmare. Besides, the average user will mostly never make use of them, unless the browser app presents these options in an-easy-to-grasp (and install) way (like UC Browser).
So what features are important for a browser, then? Again, this varies, but we'd say that most would agree that synchronization with your desktop browser is a pretty wicked feature, and one that makes a lot of sense. Unfortunately, not all of the browsers on our list offer this feature, which is a bit sad. Moving on, most of us like to have a way to browse the web anonymously, so incognito tabs have become something of a standard feature, but also one that not all browsers offer. Lastly, data compression is also becoming more and more of a worthwhile feature, now that the world is consuming increasingly gigantic amounts of data, all the while on a limited subscription.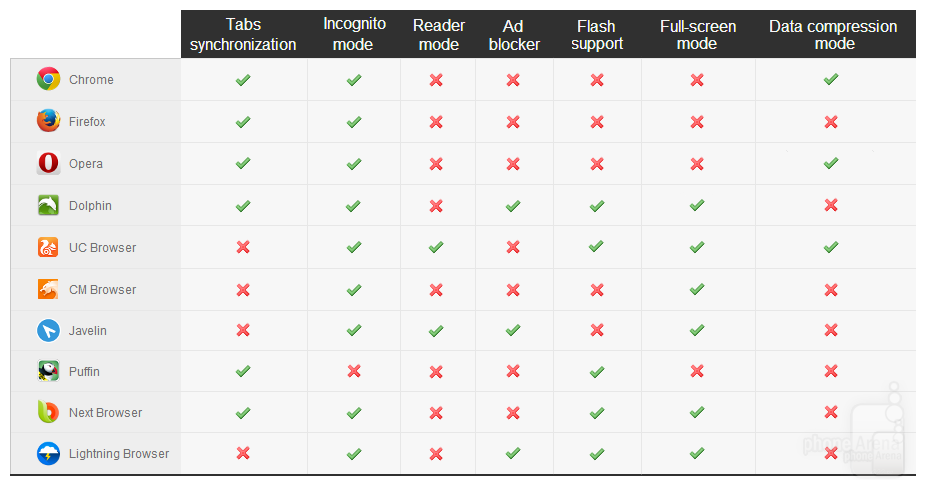 * Dolphin's Ad blocker requires JetPack (standard on Android 4.3-4.4 devices). Flash support only through an addon.
* Puffin's Flash support lasts just 7 days. After that, you need to subscribe.
Again, this isn't an exhaustive list, but it covers the main bases. As you can count for yourself, UC Browser happens to be the most feature-rich solution currently on the market, and that has been the case for a while now. Dolphin, on the other hand, has a number of other, fairly unique features, like gesture support, so don't underestimate it at all.
UPDATE: Dolphin has since pushed an update that has made Private Mode and Full-screen mode available once again. The table above has been edited to reflect these changes.
Performance: What do synthetic benchmarks say?
With design and features out of the way, it's time for the moment of truth. After all, even the most visually-attractive browser won't last long if it doesn't offer its users great performance.
The tests we've ran (more times than you'd care to know) are both synthetic and real world, but we'll start with the former. Before we go right ahead, a word, though. Sure, most of you have learned to doubt synthetic benchmarks, as they don't always paint a representative picture of real world performance (which we'll talk about in a bit). When it comes to browsers, however, synthetic benchmarks happen to be decent predictors of performance, especially since some of them are not just about measuring code-crunching speed, but also attempt to replicate real world usage scenarios, and watch how apps handle that (e.g. Browsermark). Let's see.
Performance: Page load times
Tired of synthetic benchmarks? Probably yes, meaning it's time to see how well these load and render pages in the real world. We'll be looking at load speeds under two different states -- with cache and all assets of the browser app purged (cold loading), and with those saved (hot loading). This will essentially give us the speed at which a browser loads a page it hasn't seen before (and knows nothing about), and one that it's acquainted with.
One ground rule: browsers need to load the entire contents of the page, and that's very important, as some stop their progress bar before that happens, which we think is kind of shady. In any case, to arrive at the below results, all tests were ran multiple times (three) and the score you see is the averaged time it took them to load the page.
Memory consumption
The last test we performed concerns memory consumption. Indeed, while most of us now have at least 1GB of RAM on our devices, a lot of people are still stuck with claustrophobic amounts, such as 512MB. For those devices, performance is already an issue, so a heavy browser is the last thing that's needed. We tested memory consumption on all browsers with just the homepage tab open, and then with 4 tabs loaded (Google.com, m.BBC.com, m.NYTimes.com, and
a specific page of PhoneArena.com
).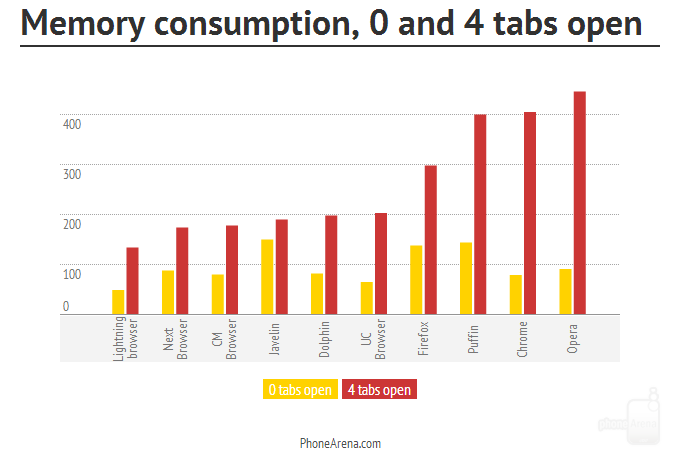 * in Megabytes (MB); less is better
As you can see, with the exception of Firefox, Puffin, Chrome, and Opera, the rest are fairly clustered together, with Lightning Browser proving to be the most lightweight of all. In other words, if your device finds itself memory-starved, causing it to shut down apps, then Lightning Browser is a decent choice -- it's simple, feature-rich, and speedy.
* Note: Keep in mind that memory consumption varies by device. The numbers above are for the OnePlus One. A device with 512MB RAM won't require over 400MB just to keep Opera running with 4 tabs.
Conclusion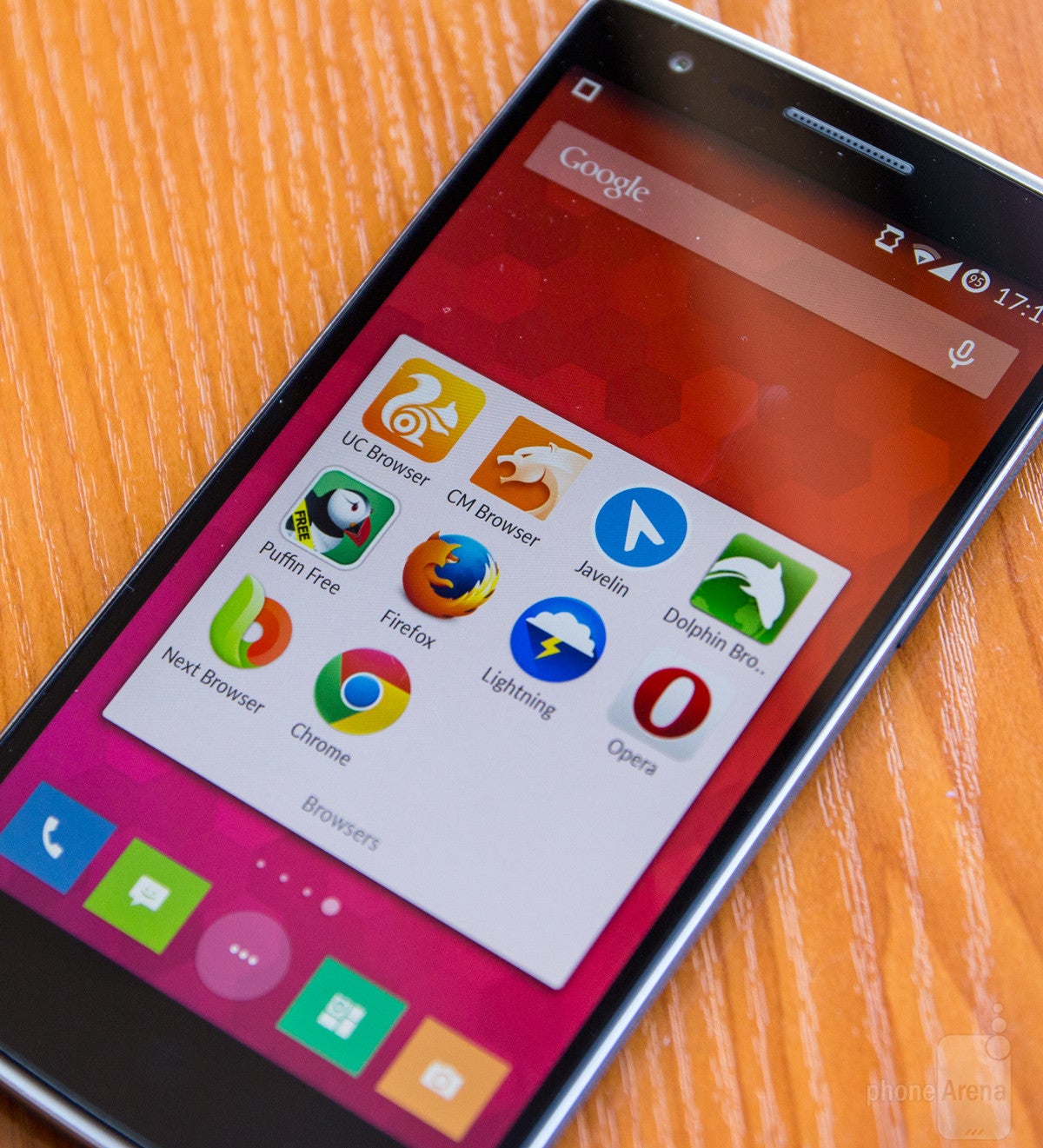 We used the OnePlus One to test all of the browsers
So what are you to conclude from all these tests? It certainly seems like there's a lesson to be learned here, and some are better than the rest. That's true, but we can't stress how small these differences usually are, especially if you exclude outliers like Puffin. Yes, it's certainly safe to say that Dolphin, Opera, and Firefox, are generally slower than the rest, and Chrome and CM Browser are usually one of the fastest, but you still have to get a feel for them before sticking with one.
As for us, through this entire process, we can say that we discovered CM Browser. This new app happens to suite our needs very well, and is plenty fast and easy on the eyes. On the other hand, Dolphin, despite its problematic speed, offers a very specific user experience, and if you're ready to learn, then you certainly need to give it a try. The same applies to UC Browser, which is actually decently fast.
Perhaps the biggest disappointment nearly a year later is Puffin. We can't help but feel the devs are missing out by not investing into a slicker, speedier interface. The browser certainly has that "I-am-the-fastest" appeal, and our tests prove it's true.
Overall, we feel confident in claiming that most popular doesn't necessarily equal better, and you never know when something great will come along. And if you're unwilling to spend your time looking for a great Android browser, it's certainly safe to say that none of those on the list will disappoint you (even Puffin, if speed is what you're looking for).
So there you have them, the very best browsers Android has to offer.