The Vision Mobile web browser gets version 8.0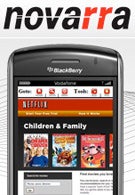 There are so many third party browsers trying to be the best – Opera, Skyfire,
Bolt
, Fennec, and Vision Mobile. The last one got a new version (8.0) which will provides full web browsing, widgets and streaming video and is not compatible only with smart phones, but with feature phones as well. There are personal password manager and seven user viewing options suchas Snapshot, Slideshow, PC magnifier, pan and zoom. The touchscreendevices can use "touch-to-focus" (sounds like the double tap zoom inOpera Mobile). SSL handling is also supported for secure site accessand transactions. Novarra tries to offer its browser through carriers and manufacturers. The browsing is done through proxy and the company can provide analytics and reporting tools for the carriers. It is already working with big names like Vodafone, Verizon Wireless, Sprint, U.S. Cellular and TIM.
source:
IntoMobile