The Samsung Galaxy NotePRO 12.2 reaches the UK, priced as an ultrabook
18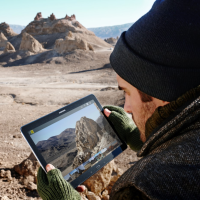 Samsung's latest and grandest, theGalaxy NotePRO 12.2, is now available in the UK. If you are lookingto get acquainted with the most powerful Android tablet money can buy (for now), pay a visit to thenearest Carphone Warehouse, John Lewis, or Samsung's Experience Storein Westfield Stratford City, London. The plus-sized tablet comes withan appropriately hefty price tag of $1,058.56 (£649).
The Galaxy NotePRO features a 2560x1440LCD display, an octa-core Exynos CPU or a Snapdragon 800 (Qualcomm'schipset is confirmed for the LTE version, while the Wi-Fi-only and 3Gversions presumably run on the Exynos chip), 3GB RAM, 32GB built-instorage, and a big 9500mAh battery. It also has the Note series'landmark S-Pen functionality.
The NotePRO is surely a glorioustablet. We had the chance to test-drive a pre-production unit, so youcan read up on our impressions before you head out to try it foryourself.
via SamMobile