The Samsung Galaxy Fold has just been officially announced! Coming soon!
57
After years of leaks and speculation, teasing and postponing, Samsung has finally announced the
Galaxy Fold
! The company's first foldable smartphone.
We first saw the Fold in November, although the lights were dimmed and the device was hidden in a prototype box. Well, no more. Now, we got to see the Galaxy Fold in all of its beauty!
Design and display
As the name suggests... it's a foldable phone. On the outside shell, there's a 4.6-inch display with a resolution of 840 x 1960 (21:9 aspect ratio), making for a rather compact (albeit thick) device to easily use with one hand. Should you require more real estate to display your content, open it up like a small booklet and voila — you get a 7.3-inch, 1536 x 2152 (4.2:3 aspect ratio) display on the inside. Samsung achieved this by developing a new polymer, which allows the inner display to be 50% thinner than any screen we've seen thus far. In its raw form, it's not just a screen panel that bends down the middle, it is a truly foldable display.
The phone's hinge has been specifically designed to withstand thousands of folds and unfolds without breaking in. The hinge is made of multiple gears and is a beautiful piece of tech, which Samsung promises will close with a satisfying click. We will not get to see it in our day-to-day use since it's concealed within the phone's body, though.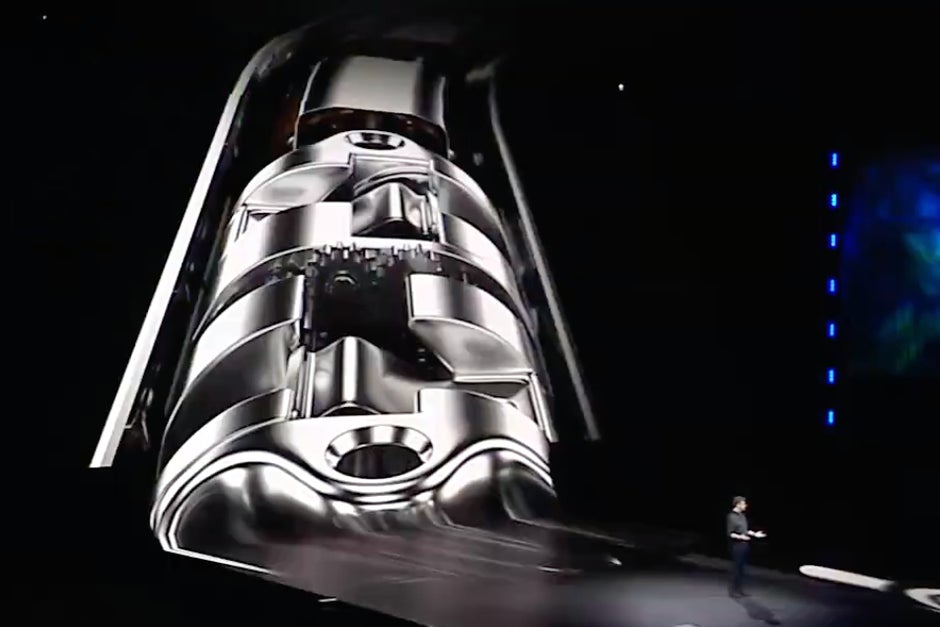 The fingerprint scanner is placed on the right frame of the device. No in-screen sensors here, the scanner is a more traditional ordeal, much like the placement on the
Galaxy S10e
or even older Sony Xperia phones.
The Galaxy Fold will launch in four different colors — Space Silver, Cosmos Black, Martian Green, and Astro Blue. Don't like the paintjobs off the shelf? Samsung will give you the option to customize the Galaxy Fold in a combination of pre-set color and side accents to your liking.
Hardware and camera
The Galaxy Fold is powered by a cutting-
edge
7 nm processor and comes out of the gate with 512 GB of storage and a whopping 12 GB of RAM. Basically, it's specced out like a top-of-the-line
Galaxy S10+
.
There are actually two batteries inside the phone's two shells. However, Samsung made sure that the Android operating system on board will view and treat them as a single cell. The total capacity is 4,380 mAh, which should make for quite the battery life! The handset is also capable of giving off charge via wireless PowerShare. You can even plug the Galaxy Fold in to charge it and place another device on top of it for quick dual charging action.
It has a total of six cameras on board, combining anything and everything that Samsung has in its sleeve. On the back, there is a triple module with a standard 12 MP camera with a variable aperture (F1.5 - F2.4), a 12 MP telephoto camera with 2x optical zoom and an F2.4 aperture, and a 16 MP ultra-wide-angle camera. The former two have optical image stabilization to assist for bumpy videos or pictures in less-than-favorable lighting conditions. On the inside, there is a dual selfie camera — a 10 MP, F2.2 main snapper and a depth camera for selfie portraits. When the device is folded, you only have another 10 MP selfie camera with an F2.2 aperture.
User interface
We are already well acquainted with Samsung's One UI — the company's new interface, which brings a uniform look to all of its (recent) Galaxy phones. The Galaxy Fold has a couple of features that are unique to it, making use of the foldable tech.
For one, it has app continuity, which will allow apps to pick up on one display where you left off on the other. For example, you look up a location on Google Maps with the phone folded, then unfold it to check out a bigger picture. Boom — as soon as the phone opens up, you get Maps right where you left off on the small screen.
Another neat feature is the ability to have a total of three apps on that big screen. A main app on the whole display and up to two apps in small windows on the right side, kind of like the iPad's Slideover feature
Price and release date
The Galaxy Fold will be available for purchase on the 26th of April, this year! "How much?", we hear you asking. Well... an arm and a leg. Uh, we mean — $1,980. Yep, the cutting edge of technology does cost a pretty penny!
In the US, the phone will be available on AT&T and T-Mobile. Right now, we have no information on why Verizon and Sprint customers will be missing out, and we wager that it wouldn't work on their networks even if you buy it unlocked. We'll share more as we find out!