The Motorola XOOM isn't the only place to see Honeycomb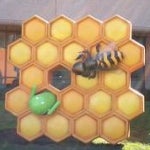 The tradition continues at the Googleplex where a larger than life-sized representation of a Honeycomb (complete with a bee staring down at our favorite green robot) now stands. The Honeycomb joins the other large-sized reminders of the previous Android operating systems like Cupcake, Donut, Eclair, Froyo and Gingerbread. The new statue now stands at building 44 at Google Headquarters in Mountain View.
Next up, of course, will be Ice Cream Sandwich. Anyone getting hungry?
source:
Cyngus
via
AndroidCentral