The BlackBerry is not working! Neither is Apple!
9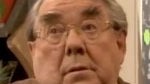 You might think that your BlackBerry or Apple is working great, but wait until you see what comedians Ronnie Corbett and Harry Enfield have to tell you about them! This hilarious treatment of the latest gadgets easily gets the number one spot in our list of must see tech clips.
We really are tempted to spoil your experience with just a couple of phrases from the brilliant conversation between the British actors from "The One Ronnie" program, but the wordplay is so skillful that we just have to let you see it for yourselves. Just please don't put your dongle in your Apple – it most surely won't fit! Careful, a dangerous amount of humor will hit you if you play the video below.
source:
DailyMobile