The Angry Birds show their Irish side for St. Patricks Day
6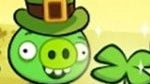 In the very near future game creator Rovio will be releasing an update to the Angry Birds Seasons game with special levels designed for St. Patrick's Day that includes the pigs wearing green Irish hats.
This edition of the game is called "Go Green, Get Lucky." In the preview trailer posted at the bottom you will see that the levels more closely resemble that of the original Angry Birds than those found on other seasonal variations such as Valentine's Day and Christmas. Guess you can only do so much with a St. Patrick's Day theme.
The game should be available shortly considering St. Patrick's Day is March 17. As always, the update will be free and will find its way to iOS, Android, WebOS and Symbian. Check out the trailer and tell us what you think in the comments below.
source:
Slash Gear