The 5800 XpressMusic comes to the U.S. at $399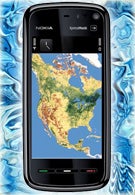 According to The Nokia Blog, the 5800 XpressMusic has entered the system of a major U.S. distributor. The phone is expected to be available around February 26, at a price of $399, which is a bit higher than the one of the European version. Nokia's first touchscreen smartphone that made an appearance in The Dark Knight movie will be launched, slightly modified in order to support the U.S. 3G bands.
The 5800 XpressMusic has been released at the European market for some time now, and according to Nokia, at least a million units have been already sold. We are definitely looking forward to see whether it will be that successful in the U.S. as well.
Nokia 5800 XpressMusic Specifications
|
Review
source:
The Nokia Blog