Telus to offer BlackBerry Storm2?
This article contains unofficial information.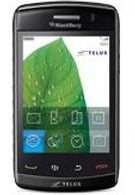 Canadian carrier Telus sent out a release the other day, explaining that Black's-a nationwide digital camera chain-would start offering some of the handset's in Telus' lineup. The guys at BGR had time on their hands and decided to check out Black's web site to see which phones were going to be offered and lo and behold, there was the BlackBerry Storm2 all done up in Telus branding. This wouldn't be too surprising had the carrier made an announcement, but so far mum has been the word. Actually, mum has been the word concerning the Storm2 ever since the whole world has caught DROID fever. But now with the cat out of the bag, Telus will have to tell us about the Storm2 pretty soon.
RIM BlackBerry Storm2 9550 Specifications
|
Review
source:
BGR