T-Mobile's latest NBA ad turns Charlers Barkley into a YouTube superstar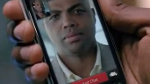 While Miami Heat superstar Dwayne Wade has quite a few new faces that he is playing with this year on the hardwood court (LeBron James, Chris Bosh and Juwaan Howard to name a few), when it comes to his television commercials for T-Mobile, Wade is once again working with Charles Barkley.
This time the former "Round mound of rebound" finds that his typical rant has been re-mixed by a couple of NBA fans and turned into a YouTube video that goes viral. After D-Wade and Barkley have a video chat, thanks to the front-facing camera on their T-Mobile handset, we are told that T-Mobile customers can share music and video faster with 4G. And once again, T-Mobile tells us that they have America's largest 4G network. Another slam dunk for the carrier?
source:
T-Mobile