T-Mobile's Curve now in Sunset red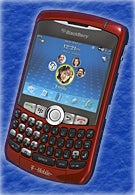 Starting today, T-Mobile USA offers the BlackBerry Curve in a new color, called Sunset. It is absolutely identical to the previous Curve of the carrier and the only change is the housing color, now in a shade of red. Price is also kept the same, available in selected stores and online at $149.99 with a two-year contract. The T-Mobile Curve features Wi-Fi, which can be used with the carrier service, myFaves, full QWERTY, 2-megapixel camera and microSD slot for memory.
* T-Mobile HotSpot @Home is now renamed to Unlimited HotSpot Calling but remains the same thing as before – an option to expand the coverage and have unlimited calling using any Wi-Fi network (including T-Mobile's HotSpot locations).
RIM BlackBerry Curve Specifications
source: T-Mobile