T-Mobile myTouch 3G+ is the new name for version 1.2?
This article contains unofficial information.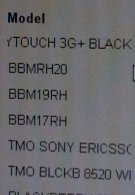 Although the latest
news
surrounding the next version of the T-Mobile myTouch 3G point to an inevitable release, it's still not definite if myTouch 1.2 will end up being the official name. Best Buy's inventory system popped up a new handset with the myTouch 3G+ moniker – which vaguely sounds familiar when you look at all the Palm devices that made its way to Verizon. Whichever way T-Mobile decides to brand this handset, it may sound a bit more appealing with the 3G+ as opposed to just adding the 1.2. Those two numbers just doesn't sound like they mix together – at least the "plus" sounds somewhat more coveted. TmoNews is reporting that their tipster has indicated a launch date of 2/28 for the handset.
T-Mobile myTouch 3G specifications
|
Review
source:
TmoNews