T-Mobile launches Sidekick LX and Motorola W490 in several new colors
5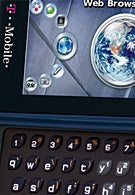 Sidekick LX
today at the price of $299.99 along with a contract. The quad-band phone strikes with its swiveling display (typical for a Sidekick) under which stands the QWERTY keyboard. It also features Danger OS, 64 MB ROM, 64 MB RAM,
1.3
-megapixel camera, MP3 player, Bluetooth, microSD (with 128 MB card in the sales pack) and 3" 65K display with 400x240 pixels resolution. Meanwhile, the waiting for the
Sidekick Slide
's premiere with T-Mobile goes on, as it is expected soon.
The American carrier also releases
Motorola W490
in two new colors. The phone, by now offered only in black, will be available also in either green or purple at the unchanged price of $49.99 after discounts.
source:
Danger