T-Mobile USA launches Samsung Blast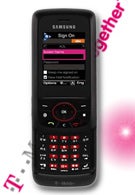 Samsung T719 which is still offered from T-Mobile USA, is a standard clamshell phone with SureType keyboard and Blackberry connect software designed for people who need Blackberry like functionality, but for some reason do not want actual Blackberry device. We
reviewed
the phone back in April, and overall we not happy with it at all.
The new device in the same line, T729 changes the flip design to a slider, cuts the weight from 3.5OZ to 2.8 and offers improved talk and stand-by times. The rest of the features stay unchanged and include
1.3
Mega
Pixel
camera,
EDGE
only data.
Samsung Blast will be available from August 8th, for $99 with 2-year contract.
Samsung Blast Specifications