T-Mobile Sidekick 4G returns carrying a $99 price tag on an unlimited data contract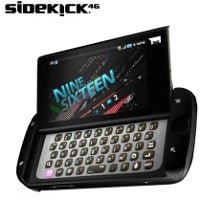 Woohoo! CTIA goes full steam ahead rightfrom the start and T-Mobile's Sidekick 4G is just one of the newhandsets we saw. It's here and it's the successor to the iconicSidekick, but you already know that. What you might not know, though,is the pricing announced at $99 after a $50 mail-in rebate ona two-year unlimited data contract.
The tricky word here isunlimited, as if you opt to go with limited data, the price of theSidekick 4G grows to $149. The friendly handset has a nicely spacedkeyboard and a slide-out (not swivel) screen, but your biggestsurprise might turn out to be the extensive skinning on top ofAndroid 2.2 Froyo by LG and T-Mobile. It's not necessarily a badthing, but how will it perform? The handset is coming this spring,which is soon, but our hands-on is coming much sooner, so stay tuned.
source: T-Mobile