T-Mobile Sidekick 4G kicks in the NBA Playoffs with fast-break rap promo (video)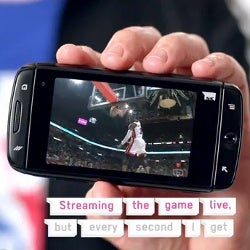 The T-Mobile Sidekick 4G might notbring the swivel screen of the original Sidekick, but it comes with avery capable and spacious keyboard. Now that along with some othertechnical details is what you'd hear from a tech blog, but if youever wondered how all the features of the Sidekick 4G sound in streetspeak, listen closely as this latest T-Mobile ad is all about that.Did we mention it features the T-Mobile girl?
It does, but it also focuses on the NBAPlayoffs, which you can view live on your Sidekick 4G. Lyrics arecourtesy of MC Witness, who's trying to impress the girl in pink, forthe rest of the story – check out the videos below. The T-MobileSidekick 4G will set you back $99 on a two-year contract with thecarrier.