T-Mobile Sidekick 3 Special Editions
This article contains unofficial information.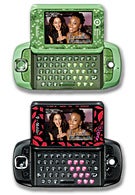 The popular trackball-featuring phone known for its QWERTY keyboard and messaging features will be available in two color schemes in limited edition : LRG (Limited Research Group) and DIANE von FURSTENBERG, respectively targeted to males and females. The first one is in green Camo paintjob, while the latter is in solid black color with red kisses all around its display.
Otherwise the two phones are absolutely identical to the original Sidekick 3. They will be sold from October 30, and are currently available for preorder from T-Mobile webpage.