T-Mobile Galaxy Note 2 multi-window update now live
9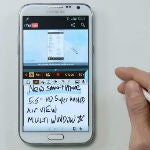 Today has been a hit or miss day for T-Mobile users looking for software updates. We just heard that the update for the HTC Windows Phone 8X has been delayed, but it's good news for T-Mobile users who have the Samsung Galaxy Note II. Word has it that the update bringing the popular multi-window functionality to the phablet is now live.
This update (surprisingly) made it to Verizon first, but now T-Mobile users can enjoy the Note II's multi-window system, which allows users to have two apps running concurrently in separate windows on the same screen. It's a great way to use the huge screen of the Note II.
To check for your update just head to Settings --> About Phone --> Software Updates.