T-Mobile G1 site now live, to be announced in a few hours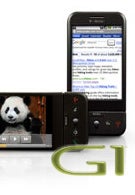 T-Mobile's site for the first Android phone is now up and running with limited functionality. We've heard the T-Mobile G1 name before and WSJ suggested that the Google brand will be showcased, but we didn't really expect to see such thing: it is called T-Mobile G1 with Google. The press conference starts at 10:30 EDT so in a few hours we'll update you with a post with more details. Stay tuned!
http://www.T-MobileG1.com
Update
: Official photos of the G1!