T-Mobile BlackBerry Pearl 8220 gets priced, is pricey
12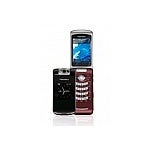 With the release of the BlackBerry Pearl 8220 on the horizon, pricing has formally arrived. When first announced, rumors swirled around the internet claiming that the phone would be somewhere in the $50 mark, however that has quickly proved to be wrong. Pricing for the phone is now rumored to be as follows:
New Activation 2 Year Contract $149.99 (after $50 MIR)
New Activation 1 Year Contract $199.99 (after $50 MIR)
Full Upgrade 2 Year Contract $167.99 (after $50 MIR)
Full Upgrade 1 Year Contract $217.99 (after $50 MIR)
Full Retail Price: $349.99
Again, these are not confirmed prices. They seem high, however we expect them to drop shortly after launch, considering it's entry in the middle of T-Mobile's smartphone lineup.
Source:
IntoMobile
via
BGR