Swype ported to Apple iPhone, but you still need to spell correctly
12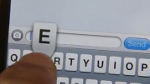 A video made by the iPhone Download Blog shows a beta version of the popular app
Swype
ported to the Apple iPhone. Unlike the Android version of the app, there is no line that helps youtrace your movementfrom letter to letter. Furthermore, this version of Swype works only on
stock iOS apps
like email and messages.
The video shows that the software does work on the Apple iPhone keyboard. The one time it failed is a testimonial to the apps ability to make sure that incorrectly spelled words-like, oh,
testimonial
-do not make it to your screen. Of course, you need a jailbroken iPhone to download this software. You might also notice that the pop-up keyboard would show its face occasionally, but that should go away as the user becomes more used to the Swype technique.
source:
YouTube
via
iPhoneDownloadBlog