Stories you shouldn't have missed this week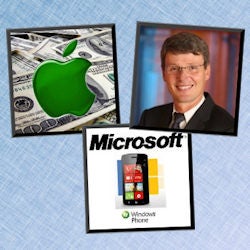 Bye, Jim! Bye, Mike! Hello, Thorsten! This is how one can briefly describe the shake-up that took place at RIM headquarters this week. The company's newly appointed CEO, Thorsten Heins, is now responsible for bringing RIM back on its feet. And in order to accomplish that feat, releasing the PlayBook 2.0 platform and the first BlackBerry 10 devices in a timely manner will be crucial.
Speaking of which, the entire RIM roadmap for 2012 leaked just recently revealing new Curve smartphones, the elusive 3G-capable PlayBook tablet, and a BlackBerry 10-powered handset, codenamed London.
We brought you a whole bunch of featured articles this week, starting with our in-depth look at Google's unified Privacy Policy, which got introduced just recently. If you are not entirely familiar with it yet, we would totally recommend checking out our article. We also have a post for those who make long distance calls often and wish for a way to do it in a cheaper way. But wait, there is more! We compiled a list of 10 cool cases for the
Amazon Kindle Fire
, and a pack of Cydia tweaks for your jailbroken iPhone.
Interesting news regarding Windows Phone came out of team Microsoft this week. The company said that it plans on speeding up the rate, at which support for new hardware features is introduced to the platform. High definition displays and dual-core processors are a few that come to mind, although support for them might come with the platform's next iteration, codenamed Apollo. And by the way, the Apollo update might run on the same kernel as Windows 8 will, which, if true, would make it easier for developers to release apps in both mobile and desktop flavors.
Those of you who are expecting to see the
Samsung Galaxy S III
at MWC next month, prepare to be disappointed. Rumor has it that the handset might not make an appearance at the expo. On the other hand, others claim that the Galaxy S III will actually make an appearance and will even be ready to hit the shelves by April. What the sources of those rumors agree upon is that the device will sport a quad-core chip and a display of HD resolution.
Speaking of MWC, we heard of a couple more devices that might get unveiled at the expo. The first one is known as the LG CX2, or Optimus 3D 2, and just like its name suggests, it will support glasses-free 3D. The second one is a tablet by Samsung, which interestingly, might come with a 2 GHz dual-core processor under its hood.
This week, we got the chance to play with a couple of hot devices, the first one being the
Asus Transformer Prime
. In fact our full-on review is already up, so those who are interested in this quad-core beast should absolutely check it out. The other device that we got to take for a spin is the
LG Spectrum
. We ran some benchmarks on it already, and our review will be out before you know it.
Last but not least, a number of companies released their Q4 financial results this week. And while Apple was raking in money by the truckload last quarter, others were not doing so well.