Steve Jobs' first day as ex-CEO documented in a calendar
10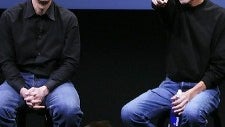 It's been a couple of days since Steve Jobs announced his resignation as CEO of Apple, but as we're still trying to get used to the thought, so is... Jobs himself. You didn't think that the main Steve behind Apple was going to just quit, were you?
Now, however, after the resignation his duties have changed and focused on "one more thing." Or should we say one more person. Check out the hilarious "my first day as ex-CEO" calendar put together by Nitrozac and Snaggy from the Joy of Tech, but don't forget to also take a peek at our own in-depth look at the
new man behind Apple
.