Steve Ballmer condenses his One Microsoft plan to a 2-minute explanation (video)
5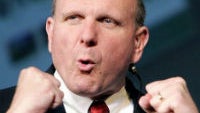 Steve Ballmer
sent out a memo
yesterday detailing his plan for restructuring Microsoft. The memo was extremely long, to say the least. We boiled it down to the relevant bits for you, and
The Joy of Tech
even made fun of Ballmer's attempt to describe the "lean and efficient" new Microsoft. But, this video may be the best way to understand the basics of the One Microsoft plan in about 2 minutes.
The video comes from Ballmer speaking at a Microsoft Town Hall Meeting yesterday. The first 40 seconds are so give an overview of the plan and the newly appointed heads of the newly created divisions, then you'll get the usual ebullient Ballmer laying out his vision for the future of Microsoft. It's definitely a much easier way to get the info, though obviously not quite as detailed.
But, that's probably a good thing.