Sprint's Mogul is now EV-DO Rev. A capable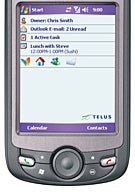 Today, Sprint released a software update for the HTC Mogul, transforming it into the first EV-DO Revision A capable handset in the States. Compared to the Rev. 0, the new revision doubles the download speeds (600-1400 kbps instead of 400-700 kbps) and offers seven times faster upload (350-500 kbps instead of 50-70kbps).
The new software also enables the GPS receiver, integrated into the phone.
HTC Mogul
Specifications
|
Review
via
Crave