SprintPCS Launched 3G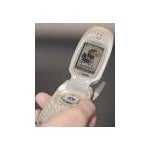 Sprint
Corp. introduced its next-generation
wireless
technology Thursday, Aug. 8, 2002, a system that allows users to surf the Internet and play computer games on cellular phones. Two of the 3G capable devices are shown here.
Sprint also announced at its worldwide headquarters in Overland Park, Kan., Thursday, Aug. 8, 2002, a variety of product and service upgrades to its wireless services, including this phone/personal desk assistant (
PDA
). The device, which operates utilizing Palm software, functions just like any other PDA and can sychronize its data with a personal computer.
Source:
Yahoo
AP Photo/Dick Whipple