Sprint to get dual-faced Samsung Music and two new Katanas from Sanyo
This article contains unofficial information.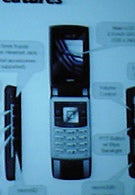 The guys from
EngadgetMobile
received a few spy-photos of three new phones Sprint PCS will offer in the future. Although there is no information about them, we know this is the
Samsung SPH-M620
which is the
CDMA version of the dual-faced F300 Ultra Music
. It has large color display and music keys on the one side and small display and numeric keypad on the other.
What EngadgetMobile doen't know is what those
PRO 700 and PRO 800
phones are. But we guess these are new Sanyo phones, under the brand name of Katana. When
the first Katana
launched, there were rumors that other more powerful phones will come. The PRO 700 will have durable non-slip rubber surface and brushed steel front cover, while the PRO 800 will be Sanyo's model with hi-end look and features.
Source:
EngadgetMobile