Sprint puts a freeze on Upgrade Now
12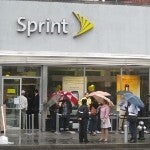 Sprint has put a freeze on its
Upgrade Now
program which allowed customers to pay a little extra money to receive two-year upgrade pricing a little earler than normal. The good news is that the freeze appears not to be permanent. A leaked internal memo meant for Sprint reps tells them to recommend that customers keep checking in to see if the plan has been reinstated.
Other signs that the Upgrade Now freeze is temporary is the memo's use of the phrase "
temporarily discontinued
". The memo notes that Upgrade Now offers have already been
removed from the system
. For now, if you're a Sprint customer, you can't bribe the timekeeper. If you want that
LG Optimus G
at the subsidized price, you're going to have to wait for your upgrade to hit just like everyone else.
source:
AndroidCentral