Sprint preparing the Palm Treo Pro?
24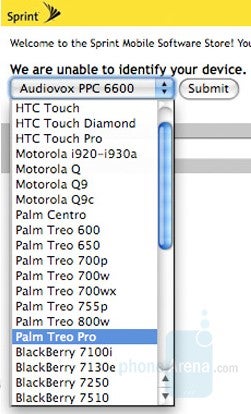 There is nothing more exciting than accidentally browsing on a cellular phone carrier's website, finding a secret tidbit of information, and sharing it with others! Though there is no page dedicated to it, the Palm Treo Pro may be coming to Sprint soon, according to a screen shot. When browsing the mobile phone software store, the drop-down menu shows the highly anticipated device creatively sandwiched in between the Treo 800w and the BlackBerry 7100i. The differences between the Pro and the 800w are minor; both have Wi-Fi, GPS, and a vivid 320x320 screen, however the Pro is slightly slimmer, prettier and has a higher capacity battery.
Sprint Treo enthusiasts, rejoice! The device may be headed your way before you know it.
Palm Treo Pro Specifications
|
Review
(GSM version)
source:
Gizmodo