Sprint now offers RAZR VE20, Katana Eclipse
8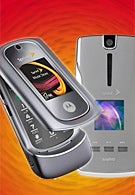 As it was expected, Sprint now offers two new clamshell phones, the RAZR VE20 by Motorola and the Katana Eclipse by Sanyo. Both are mid-level phones priced at $99.99 with a two-year contract and $50 mail-in rebate.

Motorola RAZR VE20 is a cross between the RAZR2's features and the design language of the first-gen RAZR. It is equipped with a 2-megapixel camera, QVGA main display and another color one as an external (plus touch sensitive keys below it).

The Eclipse is the fifth device in the Katana series. It features two color lights that flash in different color depending on the contact that is calling. Like the RAZR VE20, it also has music keys on the front, below the external display. The latter is smaller, but can be used for navigation when closed.

source: Sprint