Sprint newsletter introduces the Samsung Instinct HD... by accident?
This article contains unofficial information.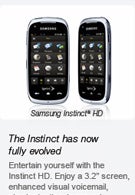 The
Samsung Instinct HD
for Sprint has still not entered the official stage, but it might actually be pretty close to doing it. A Sprint Premier Connection newsletter has, by mistake or not, included a picture of the touchscreen handset, as well as a short description of it, revealing a "Coming soon" launch timing. We really hope this means it will be available this month, as it's currently expected. Features seem to be confirmed by the newsletter, including the
3.2
-inch display and 5-megapixel camera.
Samsung Instinct HD Preliminary Specifications
via:
EngadgetMobile