Sprint launches the Touch Diamond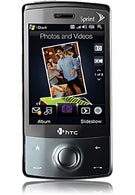 a long time
(although, we weren't ever
quite exactly sure
what "this day" was,) but it is finally here: the HTC Touch Diamond is officially available. Sprint has gone ahead and added some of their own touches to the device such as
Picture Mail,
Sprint TV, Sprint Music Store and a love-it-or-hate-it red backing, but overall the TouchFLO 3D interface we
enjoyed so much
on the GSM version looks to be relatively unmolested. The
Sprint hardware
is a step up from the original, adding more memory and a faster processer which should allow everything to run smoother. Users can snap up the device
online
or via TeleSales for a mere $249.99 on contract, after a $100 MIR.
HTC Touch Diamond CDMA Specifications