Sprint launches Samsung UpStage
2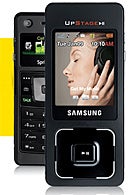 Sprint PCS "redefined the flip form factor" by launching the Samsung
SPH-M620, known as the UpStage
. The CDMA version of the F300 Music was announced last week at CTIA 2007 in Orlando, Florida and now is available for ordering through the carrier's webpage.
You can get it for $150 with 2-year contract which makes it more expensive than other music-centric devices of the carrier: LG Fusic is just $80 and Sanyo M1 is $100. Still, the UpStage is the slimmer than both of its rivals and is the only one that really looks like a Music Player.
Check our Hands on Video of the UpStage and
read its Specifications
to get more familiar with the device.