Sprint launches Samsung SPH-A420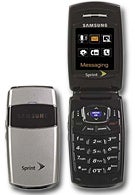 Sprint launched the SPH-A420 by Samsung, which is an entry-level phone in clamshell design. It features only basic functionality and is aimed at customers looking for a cheap and decent-looking phone. The handset, measuring 3.4 x 1.7 x 0.9 inches (86 x 43 x 23mm), features a 65k color LCD screen, built-in speakerphone and voice-activated dialing.
Samsung A420 is now available on the Sprint PCS website for free with a two-year contract.
Source:
Sprint PCS