Sprint launches BlackBerry 8830 World Edition
5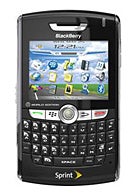 Sprint just announced officially the BlackBerry 8830 World Edition Smartphone, which will be available next month online at sprint.com at the price of $200 after rebates.
The 8830
is the CDMA/GSM hybrid version of the 8800 which is offered by both AT&T and T-Mobile. It is BlackBerry with full QWERTY keyboard, landscape QVGA display, microSD slot and media player but no camera. It is only 14mm thin and with glossy black surface, similar to the one of the Pearl.
As it is a hybrid, it has SIM card slot and can work in any GSM network on the 900/1800 MHz (Europe/Asia) bands. As the phone comes unlocked, you can just plug any SIM card, and not only one of Sprint's roaming partners.
More information –
Sprint