Sprint and AT&T to negotiate to swap spectrum bands
6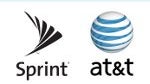 Sprint and AT&T have filed with theFCC to swap spectrum bands in several major cities across thecountry. The agreement is expected to benefit both companies and thefinal decision is due by January 1, 2011
On one hand, AT&T, the US's secondbiggest carrier, claims that the swap will boost its system capacityaround the following metropolitan areas: Dallas-Ft.Worth, Denver, New Orleans, Baton Rouge, Des Moines, Honolulu, SanFrancisco, Oakland, San Jose, Omaha, Louisville, Lexington,Evansville, Salt Lake City, Spokane and Billings.
Sprint, on the other hand, said thatthe exchange will enhance its network in: Tampa,St. Petersburg, Clearwater, New Orleans, South Bend, Mishawaka,Charlotte, Greensboro, Greenville and Cleveland.
Other reportssuggested that AT&T is trying to buy spectrum allocated forQuallcom's Flo TV service.
source: Electronista